She sits at the vintage sewing machine, the old Singer her mother acquired years ago from a vagrant, a mysterious old woman selling collected throwaways she carted around in a beat-up, paint chipped, wooden red wagon. The exchanged was a swap. The vagrant begged for bread for herself and the scrawny, faithful dog that limped behind the wagon. Her mother, a charitable woman, unselfishly shared food with the beggar and for her kindness, the old woman lifted a badly battered sewing machine out of a heap of useless junk and placed it on the front step of the home. The seamstress sings softly as she works the machine, her music strangely mimicking chants of Buddhist monks worshiping high in the Himalayas. Intermittent words of endearment interrupt her songs. She whispers to the machine and often leans forward to drop a kiss on its dark metal frame. No one, not even the niece who watches over her, is ever allowed to touch the rare machine. The behavior is strange and worrisome but the niece keeps her thoughts and fears to herself. After all, her aunt is a famous designer and creator of beautiful gowns, all created on the old Singer. The gowns are unique, never duplicated, and sold for thousands of dollars to the rich and famous around the world.
        The designer is 80 but who would believe it? She looks younger than her age. Gravity has yet to show its full effect on her face and on her figure. Her face is tight, her eyes bright, but a smile is never on her lips, never found in her eyes, until she sits before the vintage Singer and begins to sew. It is only then that a smile of contentment and adoration floods her countenance and a gleam of madness dances in her dark eyes. Although she is wealthy beyond what her neighbors can imagine, her home is modest. Her main studio is the structure's basement. She has another in the city where she meets with her well-heeled clients, but she never sews in that studio. Her sewing is done in the windowless basement of her home. Surprisingly, the basement is nearly empty. The vintage machine occupies the room's center. Near a wall stands an over-sized square table on which sketching and cutting is done. A plethora of fabrics and spools of thread do not clutter the sewing room. She won't allow it. She sews one gown at a time and brings into the dark sanctum only what is needed. 
        No one, not even the niece, is allowed into the basement studio. Ever. Like a dark, immoral sin that is never spoken of, the seamstress keeps the sewing room under lock and key. The niece no longer questions her aunt about it. She remembers the history of seamstress and the old sewing machine. Her mother told her the story when she was nearing seventeen and although many times since then she had asked her aunt for her version of the acquisition of the sewing machine, her aunt has never shared with her.
        But the niece recalls her mother's words.
        Corrina Morta. There never was a time Corrina hadn't dreamed of being a model or a designer. But by the time Corrina had reached the teenage years, she had to face the reality of never being a runway model.  She was slim but not enough, short and likely never to gain another inch or two. Neither was she photogenic. She wasn't unattractive, she just had a face the camera did not love. So she put all her energy into creating beautiful designs. Her drawings were kept in notebooks which she began carting around to various studios and shops when she was eighteen and just out of high school. She was eager and proud of her designs but those in the profession were not impressed. Their rejection was blunt and hurtful, except for one woman who owned a dress shop in a small trendy mall where she sold her own designs. After flipping through Corrina's portfolio, the shop owner said she would consider her work but only after Corrina brought in an actual creation for her to view and judge. So Corrina stitched up a gown and brought it to the woman who rejected it. She offered words of encouragement and advise to Corrina. "You have promise, Corrina. Go out there, explore the world of fashion. Be different. Create your own unique style. Return in a few months and we shall talk again."
        And for the first part of a year, Corrina heeded the shop owner's advice. With her mother's blessing, she traveled. She sketched. She created. But her fashions never reached that elusive level of greatness. They remained beautifully ordinary. Until the day a pitiful, old vagrant crossed paths with her mother and begged for something to eat. In return for the food and the kindness shown, the vagrant handed over the sewing machine, adding words of caution. "Take not lightly the spirit of this machine. It can and will overcome you." Those were the only words the old woman uttered before disappearing down the street, leaving Corrina's mother baffled.
        The antique Singer's condition was in a serious state of disrepair. Seeing this, and witnessing her daughter profound distress at failing to achieve her dreams, Corrina's mother had the machine restored as best as it could be restored. When she gifted it to Corrina, she relayed the old woman's words of caution. Neither woman understood the meaning behind the warning, so they shrugged it off. But Corrina was enraptured with her gift and immediately began to design and sew. Beautiful clothes with a unique style all her own seemed to spring out of Corrina's mind and hands and all too soon the fashion world began to take notice and money poured in. It was around the beginning of her success that Corrina began hearing a wooing voice coming from the old sewing machine and it is then that her bizarre behavior began to manifest itself. Terrified as she watched her daughter descend into what she believed was madness, Corrina's mother confronted her. But her daughter only grew angry and threw her mother out onto the street where she eventually died. Corrina's fame continued to grow, as did her odd behavior. The niece knew her aunt was being possessed but by what, that she did not know. The atmosphere in the home had become sinister, and heavy, and so for her own sanity, the niece departed. As for Corrina Morta? Her popularity has grown exponentially, the demands for her gowns skyrocketed. She will satisfy her customers, for the Singer calls and together they will sew and create.
***Illness has a way of screwing things up, doesn't it?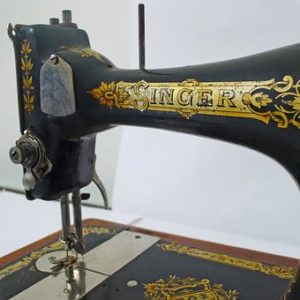 HAPPY THANKSGIVING!